spring
I hope everyone has been enjoying Spring as much as I have!  This weekend I had a chance to visit the Huntington Botanical Gardens and (literally) stop to smell the roses.  Seeing as how my own backyard is essentially either cement or tomato plants, all the flowers and greenery were a really nice change.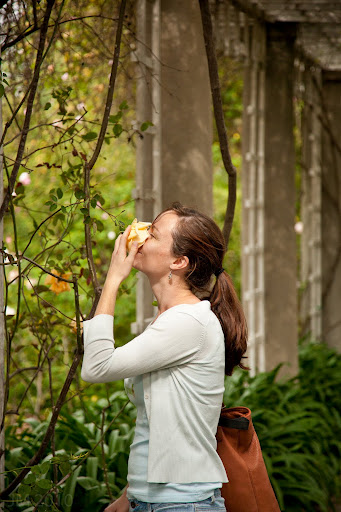 Supreme happiness as I smell the roses
Our household Easter Egg Hunt (for adults), was also a huge hit.  We had about 30 full-grown people hunting for 150 eggs, which led to a lot of scrambling, screaming, and general chaos. The trophy (which you can see here), was awarded to the team with the most eggs, and the golden egg was eventually found nestled in a surprising place—under a Tiffany-style lampshade, almost invisible due to its reflective nature!